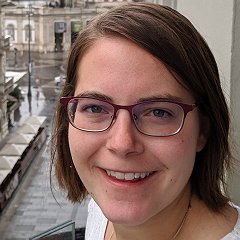 Registered user since Mon 10 Aug 2020
Name:
Alexandra Gendreau Chakarov
Bio:
I will receive my PhD in Computer Science and Cognitive Science from the University of Colorado Boulder in August 2020. My dissertation focused on integrating computational thinking into middle school science classes using programmable sensor technologies. I am currently a post-doc at the University of Colorado Boulder examining teacher learning in professional development that supports the implementation of the CT-integrated science units I helped design for my dissertation.
In the future, I would like to branch out and explore computer science education at the elementary or high school level.
Outside of work, I enjoy all the outdoor activities that Colorado has to offer especially hiking with my dog Rila.
Affiliation:
University of Colorado Boulder
Research interests:
K-12 CS Education, Physical Computing, Computational Thinking
Contributions